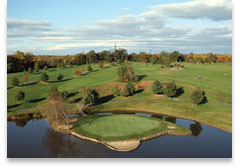 Meadows Farms is a 'must-play' because of its unique layout. This course is "…a cornucopia of the unconventional" as described by Golf Digest in a feature story January 2009. Meadows Farms is the home to: the longest hole in the U.S. (841-yard par 6); a 60-foot tall waterfall hole that requires a total placement drive to land on top of the green which sits atop of the waterfall that you later drive through; and much more.

Owner Bill Meadows "…wanted the course to be so unusual that every hole would be like starting a new course." "He wanted unique. He got it. In times of $150 public-course tickets, his greens fees range from $37 to $49," states Chris Stanford from Golf Digest. (*1)"

"Oakmont's famous Church Pews bunker has 12 pews; on one par 5, Meadows Farms has 18 of the evildoers. There's an island par 3, a major contributor to the 100,000 balls collected from Meadows water each year. And a micro-green is squeezed onto a narrow peninsula at the end of a short par 4's razor's –edge fairway.1"

"You'd swear a giant had dropped his pickup sticks at one green. It's surrounded by a ragged, jumbled wall of a hundred railroad ties tilted and leaning railroad ties tilted and leaning on end in a trench.1" The club's vice president of golf operations, Bobby Lewis, calls it "our Pete Dye-at-a-train-wreck hole."

Three distinct sets of 9-holes allow golfers can customize their experience and bring them back for more! Fun for all and unique memories will surely be your experience for you next golf trip to the Greater Fredericksburg area when including Meadows Farms Golf Course.

*1 - Excerpts from the "A different kind of golf course; Meadows Farms in Virginia is as distinctive and quirky as its creator," story by Chris Stanford in the January 2009 issue of Golf Digest.
.

DIRECTIONS: (Also See Website)
*Take 95 to Exit 130B. Follow Rte 3 west for 16 miles. Take a left onto Rte 601. Go 1 1/2 miles and golf course is on the right.