Fredericksburg Golf Trips are Legitimate!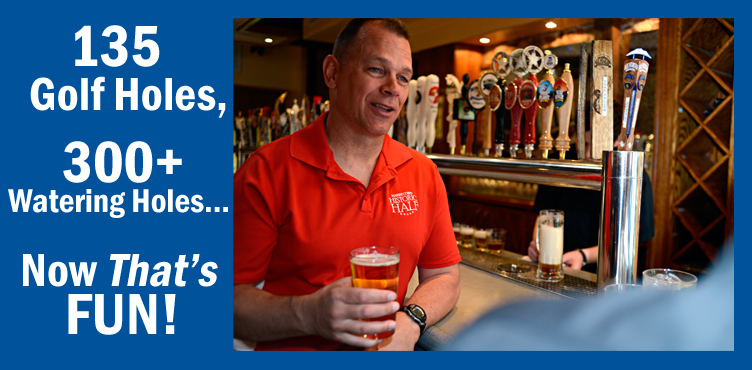 Fredericksburg, VA is one of the finest golf trails that Genesis Golf Trips offers. Having over 300+ bars and restaurants combined with 135 Golf Holes, Fredericksburg is a golf traveler's dream location. One of the best attributes to Fredericksburg is its central location. With easy access from roads such as Rt. 17, I-81, I-66 and I-97, golfers can choose the best route while considering mileage, travel time or even traffic avoidance strategies. Plus, it's a lot closer than heading to the Carolinas! Save yourself time, gas and the back strain that comes with long car rides and instead get playing on the course much earlier. Ten or more hours in a car is just way too long; do yourself a favor and try Fredericksburg. The variety of golf course layouts is also unique, given the size of market. Courses can be found for all skill levels.
One of the most difficult courses out of all our regions is; "The Gauntlet" which is named justly. This course is often played twice in two formats: an initial scramble followed by individual stroke play. And if luxury is more what you are looking for, than Fawn Lake country Club is a must-play. Designed by Arnold Palmer, this course has greatness in every blade of grass. Other courses well-known in this region are Augustine Golf Club, Lee's Hill Golf Club, Meadows Farms Golf Course and Old Hickory Golf Club. All are unique and have different qualities that appeal to a range of golfers.
There are numerous restaurants, bars and breweries in Fredericksburg to create the ideal 19th hole experience. Whether you are looking for a simple chain restaurant or want that very eclectic feel, there is literally something for everybody. One of the most famous breweries in the city is the Capital Ale House Fredericksburg, the perfect landing spot downtown that will appeal to any beer aficionado. Want to feel a little presidential? Sit down at the Bavarian Chef in Fredericksburg for an extremely high-class dining experience. If you are looking for that more casual 19th hole destination then Allman's Bar-B-Que is the place to be. Established in 1954, Fredericksburg residents and travelers have been enjoying this fare for decades. Or if you can't decide until the place hits you, take a drive through Central Park Plaza for 30+ restaurants from which to choose.
If you truly are looking to get the best all around golf trip experience, then Fredericksburg, VA is for you. You will find southern hospitality at its finest coupled with great golf, good food and endless entertainment. Not to mention the most desirable average temperatures for spring and fall golf. So save some time, save some money and gain a LEGENDARY golf experience to the best of Virginia. Want to research more about the area? Visit the regional tourism site for a detailed listing of restaurants and activities.