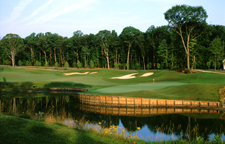 Our course at Old Hickory Golf Club was designed to fit its site with great precision. The par-72, 7,190-yard championship layout is the work of architect Tim Freeland of Jacksonville, Fla., who previously worked for the design firm of golf legend Gary Player and also worked on the design of Raspberry Falls Golf & Hunt Club, sister course to Old Hickory.

And then there are the bentgrass fairways, the super-fast greens, and our fabulous service. It's all part of a very special 18 holes on a lovely site near the Occoquan Reservoir. From the moment you see Old Hickory, you're going to know why we built a golf course here. "It's just gorgeous natural terrain," said our architect Tim Freeland, also known for his work at the Polo Club of Boca Raton and Musket Ridge Golf Club in Frederick, Maryland.

NOTE: This course charges an additional surcharge.

In fact, the same acclaimed design and development team that brought you the award-winning Raspberry Falls Golf & Hunt Club chose this premier site in the Northern Virginia area to create a second superb daily-fee course.

Old Hickory, with its parkland-style round of golf is a perfect complement to the links style of Raspberry Falls. is located in the prestigious River Falls community in Prince William County, Virginia, the area known as Beaver Creek. Our course takes its name from the hickory shafts used in golf clubs on the first golf courses in Scotland.

Raspberry Falls has always been acclaimed for its fine service, and you can expect to find that same care and attention at Old Hickory as well. You know you can expect our service to be better than what you'd expect to find at most private clubs from the moment you arrive until your time of departure.

Old Hickory Golf Club has quickly become one of the must-play destinations for golf lovers in the Washington, D.C., area.